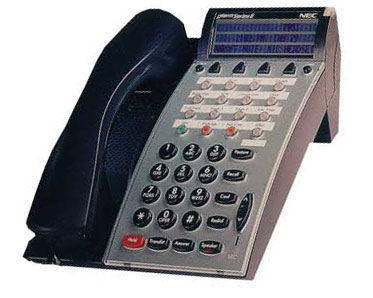 NEC Elite 3 Line Display Phone. Fully modular with eight programmable function line keys, each with 2-color LED, eight function keys, built-in speakerphone, headset jack, wall mount unit, 24-character by 3-line display, four soft keys, large LED, electronic volume and tone controls, and a tilt stand.
Features
16 programmable line keys for immediate line, trunk and feature access,
2-color LED per key immediately indicates call status,
8 dedicated function keys for ease of operation,
3 lines of LCD information (adjustable) with 24 characters per line displays more information for more informed decisions,
4 Soft Keys.